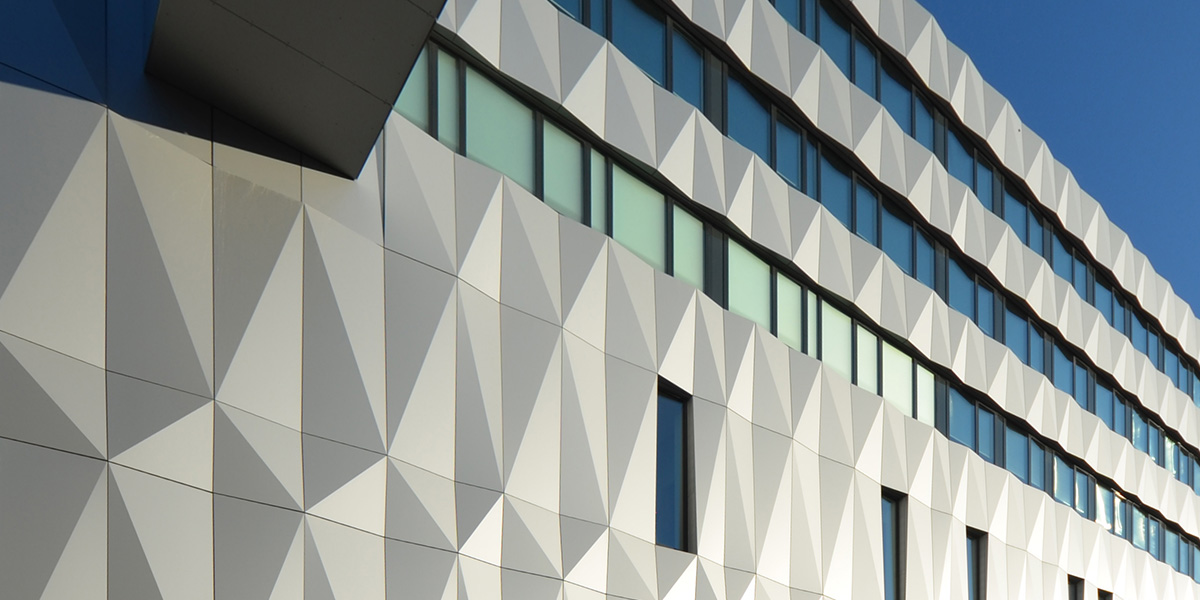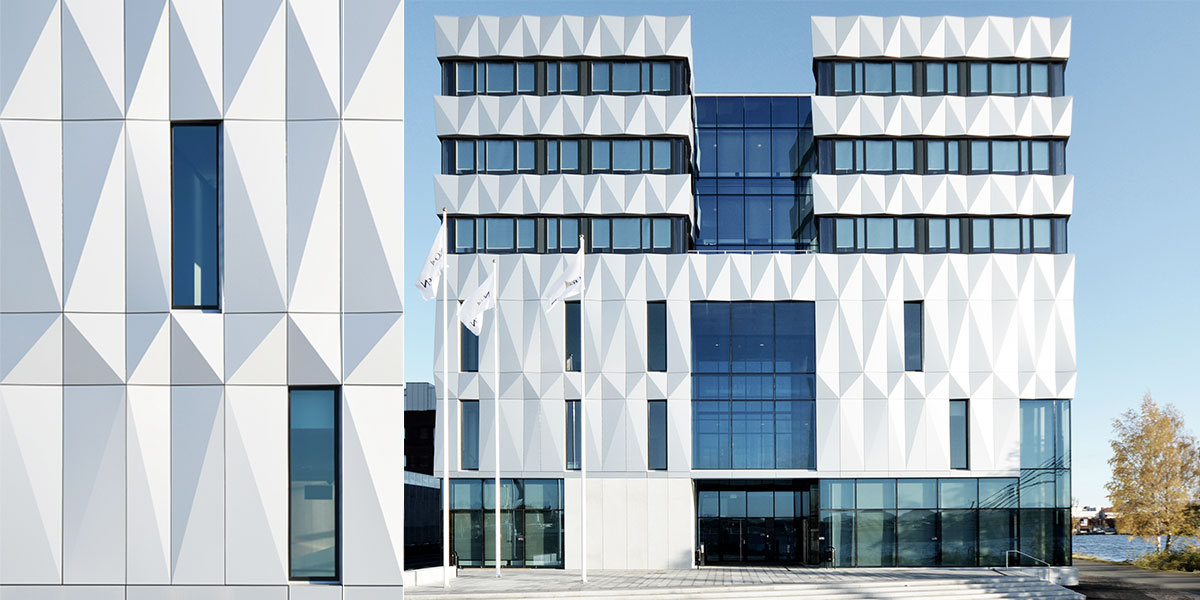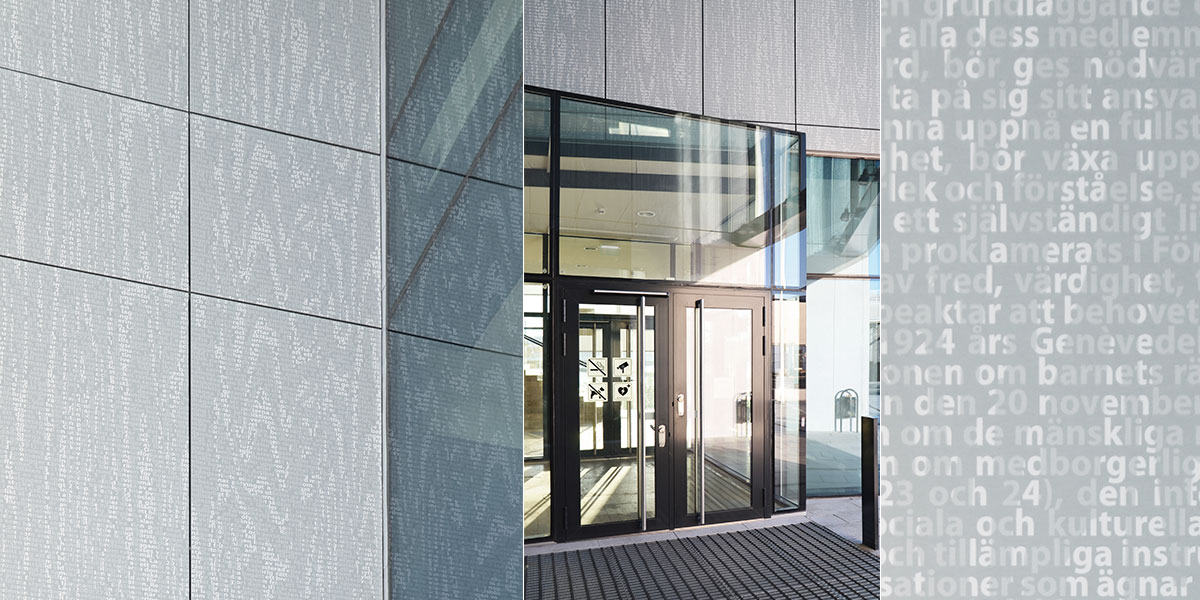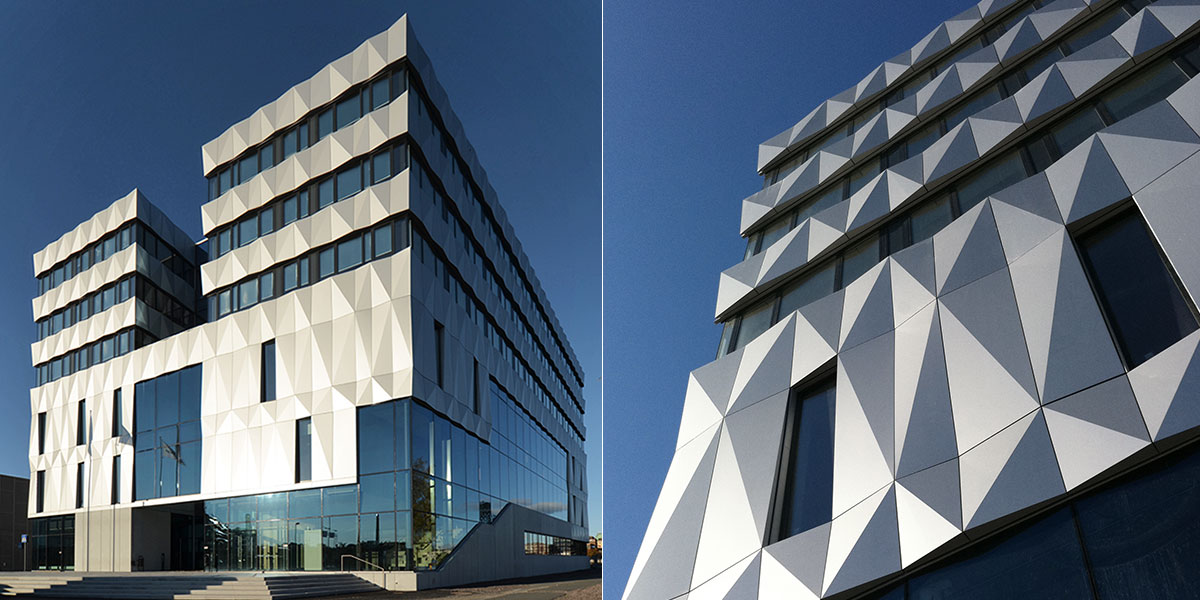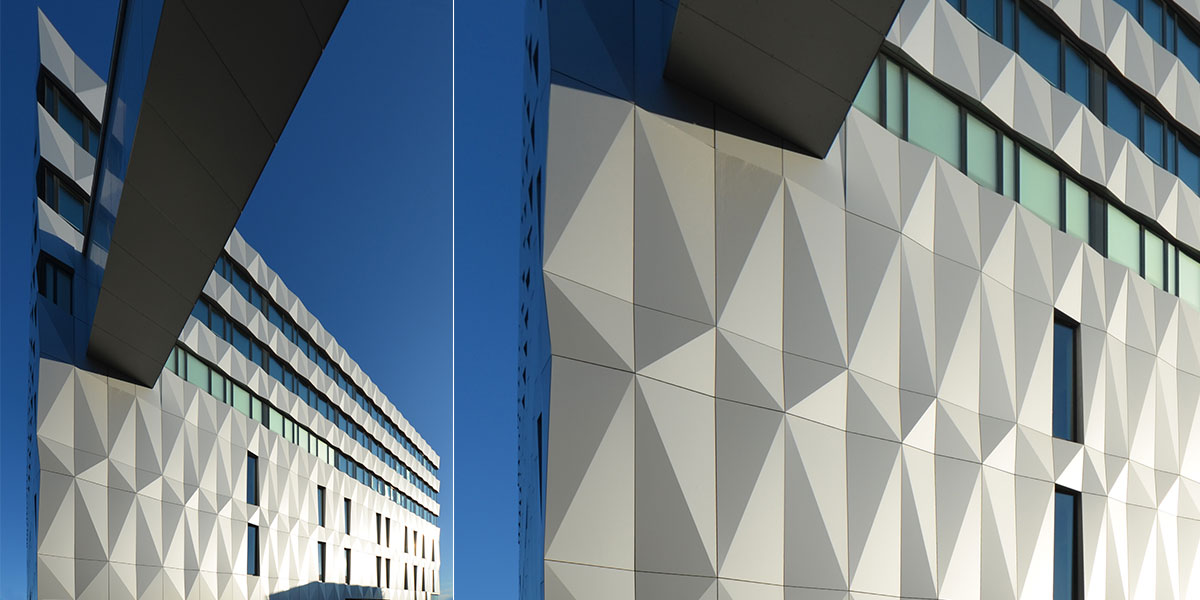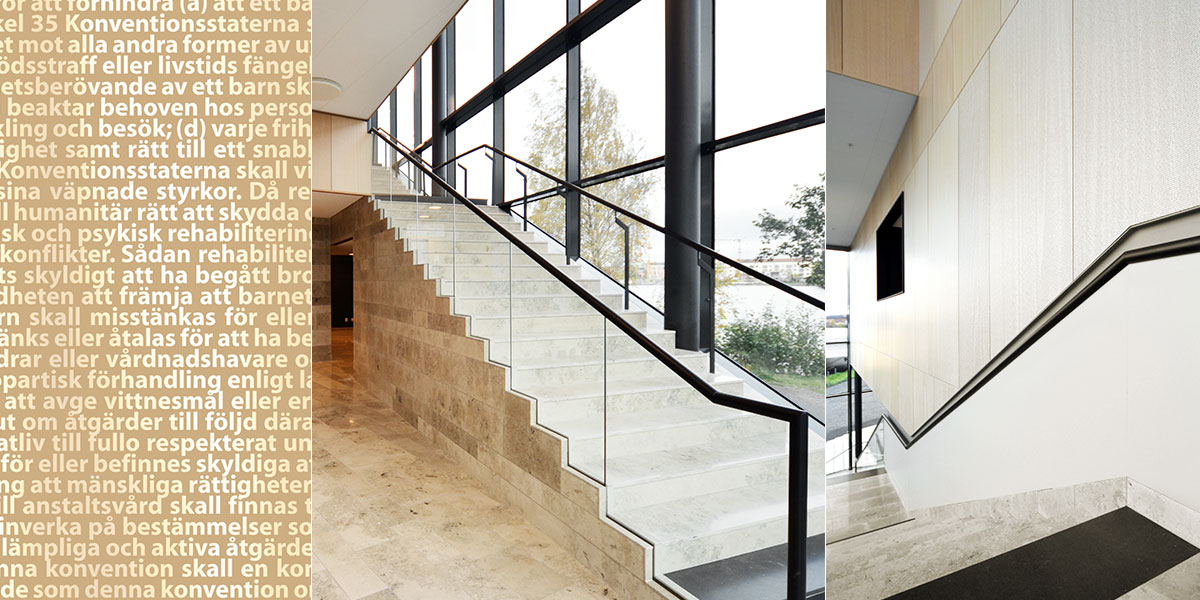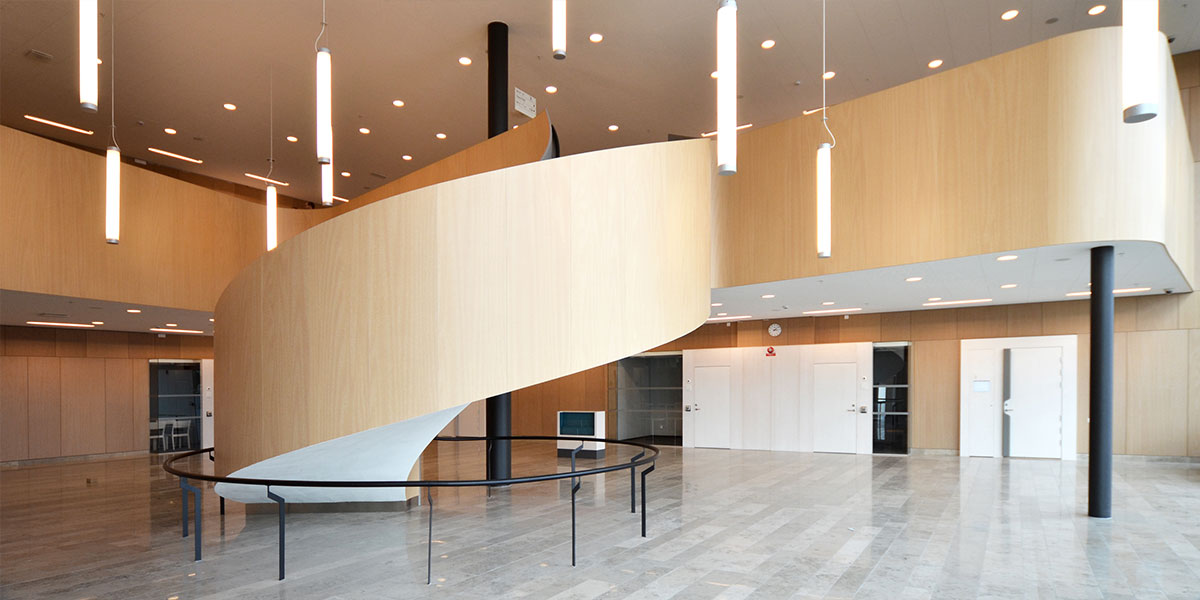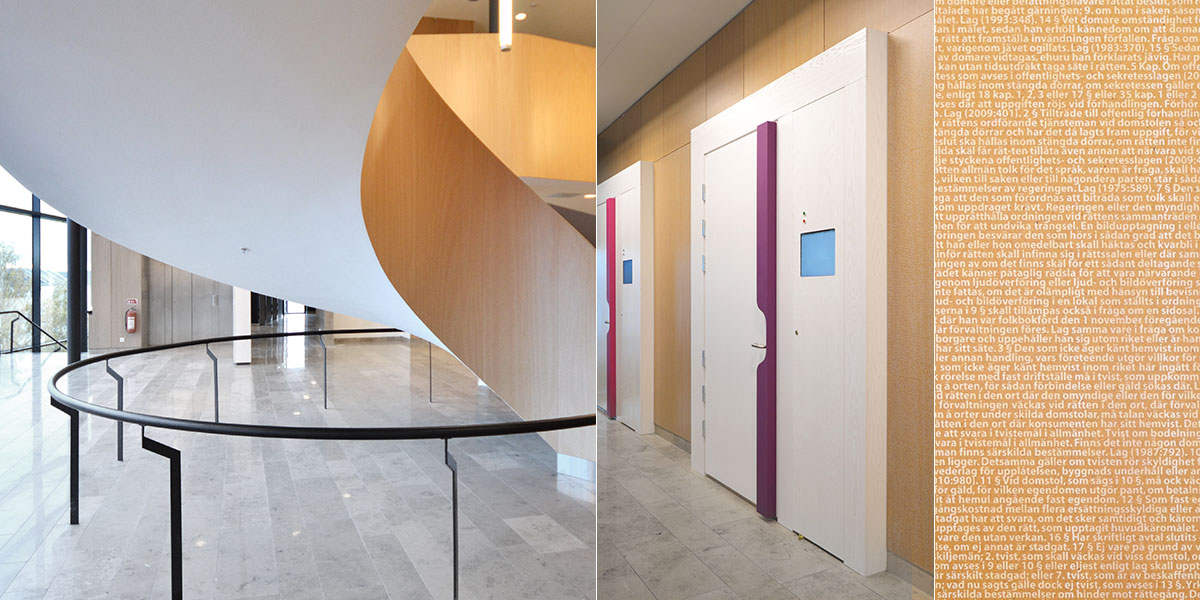 A world of contrastsClient: Norrporten
The court building in Jönköping is part of a comprehensive reorganisation within the Swedish court buildings with the aim of creating more modern, safer and more accessible courts. The new court building at Västra Kajen has a strategic location in a changed cityscape, where the shores of Lake Munksjön are gradually evolving into the city's new gathering place with a broad variety of new functions.
The location, adjacent to the police station and the detention centre, creates efficient and safe flows of people. Together with the adjacent prosecutor's office, a complete legal centre is formed. The contrasting world of the judiciary, traditionally symbolised by a pair of scales, is the conceptual common thread of the project. A play with contrasts that takes on many expressions.
A metal façade with slightly folded aluminium composite panels creates an intriguing shadow play in the constantly changing façade that resembles an abstract wave pattern that shifts in a graphical grey scale and reflects colours from the surroundings. As a light, folded curtain, it only sometimes opens up as ceiling-high vents into the courtrooms.
A waiting room, twice as high as the other rooms and inspired by the Asplund addition to the town hall in Gothenburg, faces Lake Munksjön a floor higher with a staircase that is clearly visible in the façade and radiates openness and accessibility. A warm wood-clad interior with soft shapes contrasts with the hard, colder exterior. A round staircase between the courtroom floors becomes a sculpture in itself. At a distance, the walls seem to be covered in wood, but at a closer look one can see that they are selected parts from six legal texts printed in different colours on the panels. Complex logistics ensures the best possible legal safety and personal protection where the parties do not risk meeting outside the courtroom. One part of the Court's changing work method is that testimonies can be recorded and used in higher courts, which means that the courtrooms are technological advanced and designed like advanced recording studios.
Among other things, the building's distinctive environmental profile is reflected in a very low energy consumption (below half of the BBR requirement), which is achieved through dense and energy-efficient climate panels combined with a heat pump system that produces heat and cooling using an underwater aquifer.
The building is certified according to LEED at level Gold.